GRAND OASIS CANCUN SPRING BREAK DANCEU
PARTY ALL DAY ALL WEEK
THEME PARTIES | CONTEST AND ACTIVITIES ON THE BEACH | RESIDENT & GUEST DJS
Spring Break at the Grand Oasis Cancun The incredible parties by the turquoise sea of Cancun are back in Grand Oasis Cancun with the Oasis Dance U fest 2022. Once again The Oasis Beach Club will boast the performance of international artists, who will light up the party under the warm sun of Cancun. On March 13th, Deorro will make all attendants dance to his California-style EDM; and on March 20th, from Holland Bassjackers will blow out speakers with their electro-house beats. Additionally, you'll enjoy contests, theme parties, and the best of Spring Break in an atmosphere of music and fun. Book your stay and save the date.
SPRING BREAK CANCUN '2021
SPECIAL GUESTS
Oasis Cancun Spring Break 2021 Line Up
All shows are free to Grand Oasis Cancun guests. People staying outside of resort will be required to purchase a day pass at the hotel ($80-$100/person depending on artist). VIP Sections are available at an additional cost.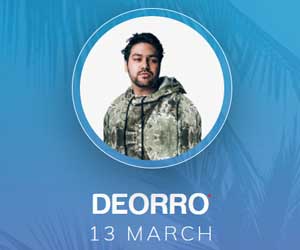 DEORRO - March 13
After more than a decade of developing his genre-blurring musical style, Los Angeles-born producer Deorro, née Erick Orrosquieta, has become known as a worldwide-touring DJ, reputable songwriter and bona fide superstar producer. Deorro officially crossed over into the mainstream milieu in April 2014 with the release of "Five Hours," which is just one of his many globally certified, chart-topping, platinum-selling releases and viral hit singles. A proud Mexican-American, Deorro is also breaking ground in the worldwide Latin music market on the strength of his megahit "Bailar," a Latin/EDM hybrid featuring Grammy Award-winning/Latin Grammy Award-winning international merengue star Elvis Crespo. For now, Deorro is working on his next album, bringing inspiration from his roots along with some of his favorite latin artists who might be featured.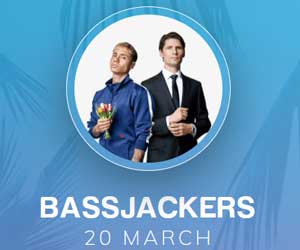 BASSJACKERS - March 20
DJ, Marlon Flohr, and producer, Ralph van Hilst, who together form Bassjackers, are perfectly in sync as a duo. Their opposing personalities – Marlon being the wild one rocking the stage, and Ralph, the more cool, calm, and collected one, preferring to shine behind the scene in the producer seat, are an ideal combination for this unique one-dj-one-producer partnership.
Currently ranked 29 in the top 100 DJs by DJ Mag.
*Line up subject to change at any time without notice.