STSTravel.com Releases Top Selling 2017 College Spring Break Destinations

Creating Memorable Spring Break Experiences for the Past 30 Years
ANNAPOLIS, MD. – Aug. 25, 2016 – STSTravel.com is happy to announce that Spring Break 2017 bookings are off to a fast start! The top selling destinations for Spring Break 2017 are Cancun, Punta Cana, Puerto Vallarta and Puerto Plata. The most popular hotels include the Oasis Cancun Lite, Panama Jack Resorts Gran Caribe in Cancun, Barcelo Punta Cana and Occidental Grand in Punta Cana.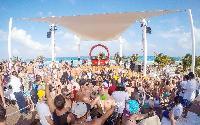 With its beautiful beaches, fantastic weather, turquoise water, variety of all-inclusive resorts, insane nightlife and easy access from all major airports in the US, Cancun continues to be the #1 most popular destination.
The King of Spring Break is the Oasis Cancun, featuring over 1,500 rooms, the largest pool in Cancun, and a full schedule of daily entertainment. This legendary party resort has brought spring breakers from around the world together for an epic celebration. The huge pool with multiple swim up bars allow guests to stay cool in the warm Caribbean sun. With several bars and a nightclub, students do not need to leave the property. During the day, the focal point is the large stage on the beach where daily parties, DJ's and contest are hosted by the resort during spring break. In front of the stage, day beds and bottle service are available for an extra charge.
For Spring Breakers looking for a more up-scale atmosphere with exceptional service, the Gran Caribe in Cancun is an excellent option. A variety of restaurants offer Mexican, Italian and Japanese cuisine. The pool deck is always full and staff is available to serve drinks all day. Gran Caribe's beach bar and lobby bar are hot spots where music is playing and top shelf liquor is served!
The night life is legendary in the Party Zone featuring popular clubs like The City, Dady 'O, Mandala, Mandala Beach, Palazzo, CoCo Bongo, Senor Frogs, Congo and La Vaquinta. The City is known as "the mecca" of spring break clubs in Cancun. Dos Equis sponsors massive foam parties where over 2,500 people can fit into this giant multiple floor stadium style venue. Major artists like Tiesto, Chainsmokers, Diplo and Nervo headlined parties in previous years. Mandala Beach Club is a Miami style club featuring a center stage and outdoor pool with surrounding day-beds. The Wednesday night party is always a hit. They host crowded beach parties with big-name spring break entertainers. Senor Frogs is known for their paint party, great music, entertaining staff and famous yard drinks. Palazzo is the most upscale club in Cancun with a roman-like architecture and giant chandeliers hanging from the ceilings. There are incredible acoustics and giant screens with amazing light shows and fog creating a sexy spring break atmosphere.
Spring breakers are flocking to Punta Cana because of its 21 miles of fine white sand beaches, massive all-inclusive resorts and incredible nightlife. Top selling Barcelo Punta Cana is full of action with daily poolside parties and beach activities. Featuring a casino, nightclub, 2 spectacular swimming pools, multiple restaurants, tennis courts and rock climbing wall; students do not even need to go off the property. Occidental Grand Punta Cana is another great option for Spring Break.
If students do happen to venture off the resort, there are popular nightclubs like Oro located in the well-known Hard Rock Hotel, CoCo Bongo and Imagine. Oro's light and sound system rivals the hottest clubs in the world; setting the stage for the biggest names in DJ's, celebrities and models! Imagine is an underground cave turned into a club with VIP rooms surrounding millenary stalactites. Fire shows, theme parties and different caves with different music make Imagine the most unique night-time experience in Punta Cana. Coco Bongo produces a Vegas style show and music that will keep you dancing all night.
Other rising spring break destinations include Puerto Vallarta and Puerto Plata. Puerto Vallarta all-inclusive resorts include Las Palmas and Krystal They are located just ten minutes from nightlife on the downtown Malecon. Popular nightlife include Mandala, Collage, Hilo and Zoo. Puerto Plata's top all-inclusive resort is Casa Marina Beach & Reef Resort . Located right in the heart of Sosua, spring breakers can walk to bars, stores and one of the nicest beaches in the Dominican Republic. Multiple swimming pools and the cliff-side Jacuzzis are not to be missed. After 11pm students can party at the Calypso Disco until 3am or stroll into town for its popular nightlife.
STS Travel vacation packages are designed specifically for college students on Spring Break with staff onsite from start to finish. With large room blocks at the most popular hotels, STS can accommodate parties of 2 to 500 within the same hotel. Each Spring Break package includes round trip airfare, hotel transfers, hotel accommodations and a complete schedule of activities featuring daily parties, contests, DJ's and events, optional side excursions and nightly parties. The optional STS VIP Party Package provides express access to nightly open bar parties and events at the most popular clubs. STS Travel agents can provide options to fit any group's budget.
STS Travel President, Jeff Jacobsen said, "We realize that for many of our travelers, this is their first time traveling abroad without their parents. We provide customer service before, during and after their Spring Break trip to ensure a safe and fun-filled experience. This includes our onsite staff that is available at all times during the Spring Break trip."
Address: 2431 Solomons Island Road Suite 302
Annapolis, MD 21401
Telephone: 800-648-4849
Email: info@ststravel.com
www.ststravel.com
STS Travel Spring Break Video: https://www.youtube.com/watch?v=CsOEKFJSvzs